Once upon a time, Samsung were bold in their endeavors to build an Apple Watch rival. They always released multiple versions of each watch. They have changed tack recently, opting for fewer options with better design, and here is a breakdown of their latest range of wearable activity trackers.
The Galaxy Fit is a £90/€100/$110 band with no inbuilt GPS, but if you are looking for a highly compatible fitness tracker to your Samsung phone that will tell you your heart rate, your daily step count, the time, the date and relay notifications from your Android phone, this might be the fitness tracker for you.
This is not a watch for those of you looking to find a running companion that will watch every move you make on the trail or help you to improve your personal best time over a mile.
The Galaxy Watch Active is a £200/€223/$245 smart watch with some neat activity tracking features that are not found on the cheaper Galaxy Fit band. This watch has an inbuilt GPS and claims over 45 hours battery life in smartwatch mode, and up to 15 hours in GPS tracking mode, which is nothing to be sniffed at! It's also a light, elegant piece of kit.
For a considerable amount more, you can have the Galaxy Watch Active 2. It comes in 2 sizes. You will pay £260/€290/$320 for the smaller 40mm watch face, or £290/€324/$355 for the larger 44mm watch face.
The Galaxy Active 2 boasts up to 131 hours of usage when the watch is being used minimally, and 60 hours of normal usage, which is pretty impressive considering the size of the watch itself when compared to other watches with big batteries, like the Garmin Forerunner 935.
The screen on the Galaxy Active 2 is incomparable to any watch I've tested before. Regardless of the surroundings, the AMOLED screen is easy to read.
These watches all contain NFC chips for contactless payment with Samsung Pay.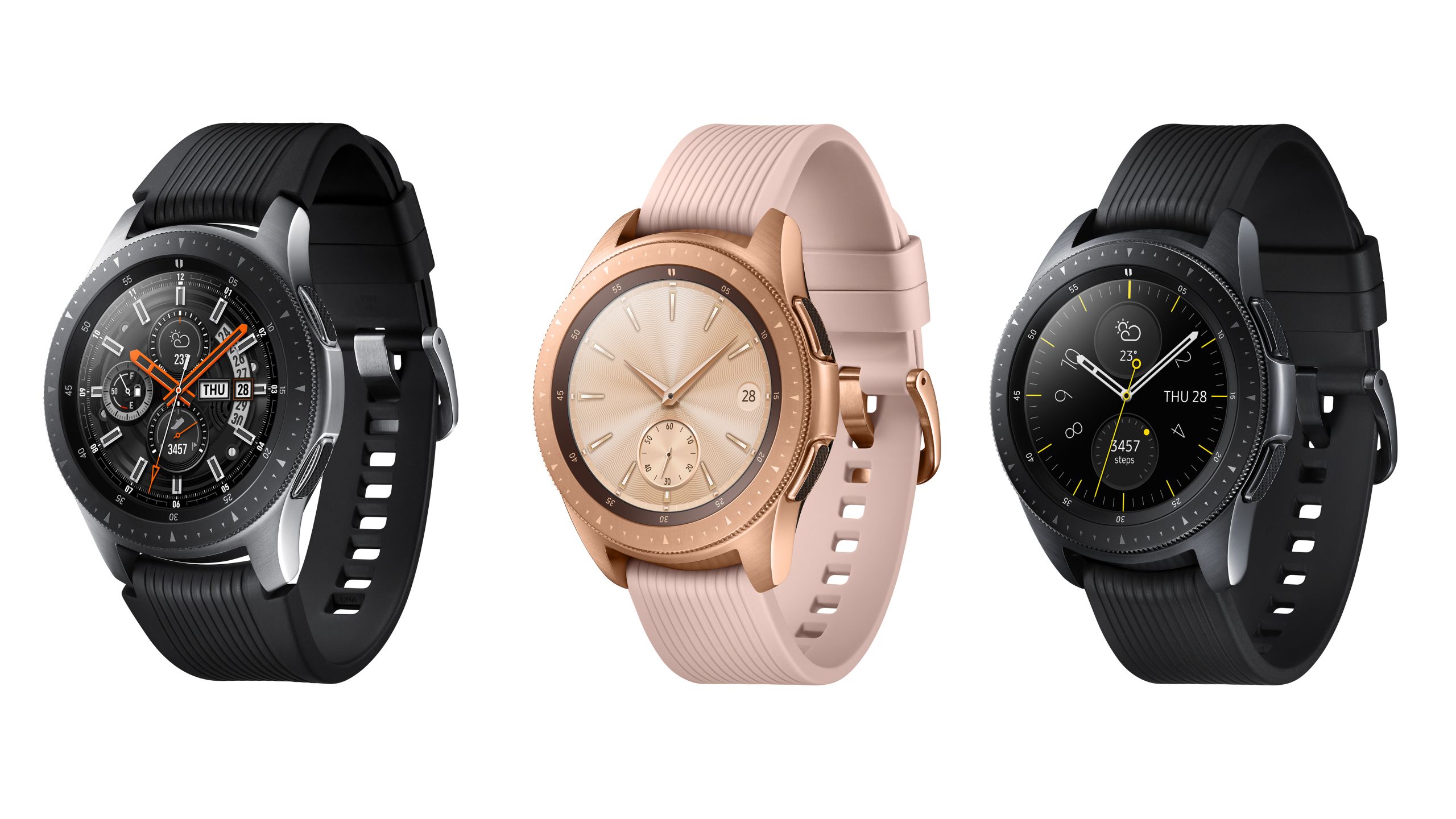 Available with either a 46mm or a 42mm watch face, and with choices of colours as illustrated above, you can see how this latest Samsung smartwatch is contesting Apple for the top spot on the smartwatch podium.
We particularly like the full black version.
The smaller size will set you back £279/€31o/$340 and the larger face size costs £299/€335/$365.
This watch contains all of the sport tracking features you could want. With inbuilt GPS, 7 days of battery life in normal usage conditions and storage onboard for up to 9 hours of music, this watch is a great running companion.
Having used this watch daily for months, in terms of tracking ability, it is most comparable to the Garmin Forerunner 735XT. However, the smart features of the Garmin are in no way comparable to those of the Samsung Watch, if you have a Samsung smart phone. The seamless compatibility is remarkable and makes this watch well worth the price tag.